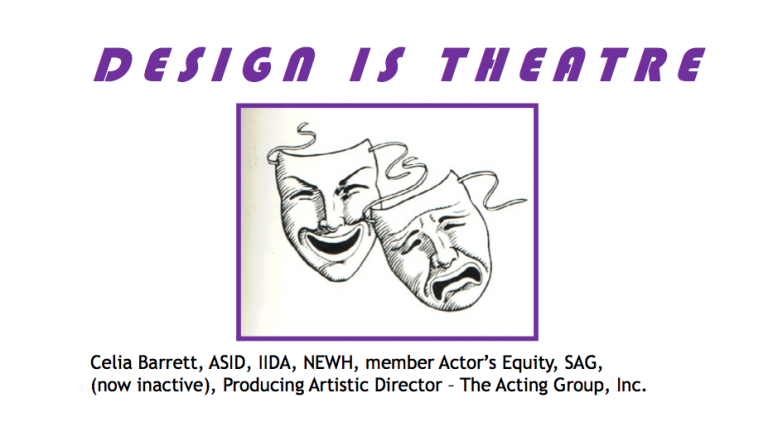 'Design Is Theatre' Workshop:
Principles of Design and Theatre in Concept Form
Duration: 90 Minutes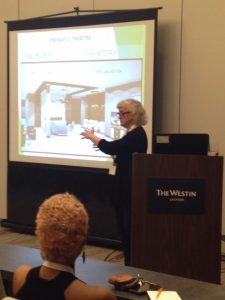 Celia Barrett's "Design is Theatre" workshop takes a look at a number of principles that Celia brings from her experience as an actress and acting company manager, and shows how she uses those principles to create drama and story in her hotel and boutique designs.
The workshop can be aimed at current interior design students or at industry professionals interested in a fresh take on creating emotion for resort guests.
Contact Celia at 601-354-0066 or via e-mail to schedule her workshop at your industry event.
Attendee Testimonials
"After working with Celia for 6 years, it still amazes me to see her work a project from concept to completion, especially on large hospitality projects. I've always known her background was in theater, but it was so enlightening to see how her experience on and off the stage translates to her design process. She's methodical in her approach while still allowing her creativity and natural talent to guide her through each and every project. Just like a live performance, things don't always go as planned but she embraces the challenge because she knows the show must go on!"
– Amy Taylor, Market Development, Interior Elements
"CEU sessions can sometimes be a bit dry due to their technical nature.  Not so with Celia Barrett's "Design Is Theatre: Principles of Design and Theatre in Concept Form."  A nationally recognized Interior Designer, Ms. Barrett shared her insights on the process parallels between acting, theatre production, and interior design for interactive commercial spaces. With a presentation style that is both engaging and informative, Ms. Barrett did an excellent job pulling the audience in. It was certainly one of the most delightful CEU sessions I've ever attended. I came away with a better understanding of how great interior design can be the catalyst propelling guests through spaces to strategic landing sites, such as bars or restaurants, within a commercial property. I definitely recommend this course to others."
– Lee Hofmann, Mid-South Market Manager, Architex
"I wanted to contact you and let you know just how much I loved your presentation at Design Summit this past weekend. I truly enjoyed the way that you related designing a space to the way someone may write a script. It helped me to realize that not only are we designing spaces, we are creating stories and narratives that people can physically interact with! Your passion for design and for film really inspired me and I would love to work with you this summer if there is an internship opportunity available."
– Ana Quintero, junior, Harding University